Operations Software - Scheduling, Yard Management & Modeling
---
Yard Inventory Management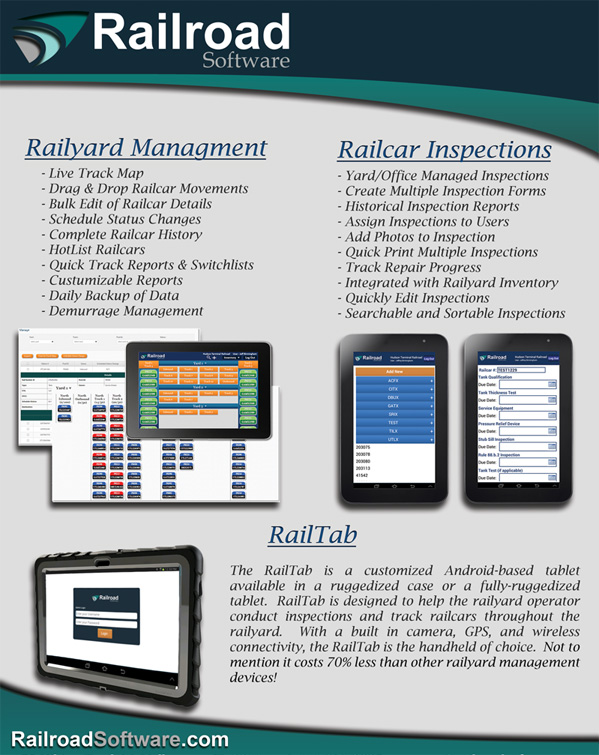 Railyard Inventory Software is designed to track live railcar movements, status changes, and other key data as the railcar moves throughout a facility or a railyard.
Inventory Management Software is cloud-based software that provides a simple to use method for managing railcars as they move through a railyard or facility. Some of the key features are listed below:
Drag & Drop multiple railcars to create switch requests
Robust search and sorting options
Quick reporting and ability to setup report templates
Automatically updates the RailTab used by the switch crew
Color coded railcar status, type, and switch request
Quick locate railcars based on car status, type, number, or other fields
Quickly manage railcar details
Quick view of railcars on Track Map
AEI Tag Reader Integration
Scheduled status change of railcars
The Inventory Management Software utilizes a tablet based application for yard crew to quickly view the location of all railcars in the facility and any switch requests. The yard crew can then quickly use the simple drag and drop function of the tablet application to document the movements keeping a "Live Track Map" up to date.
Using Railroad Software you can login in to your account anywhere in the world to check on the status of your railyard. We have also added GPS tracking to all the tablet applications so you will know exactly where your assets and/or field staff are located when the application is in use.
---
Railcar Inspection Software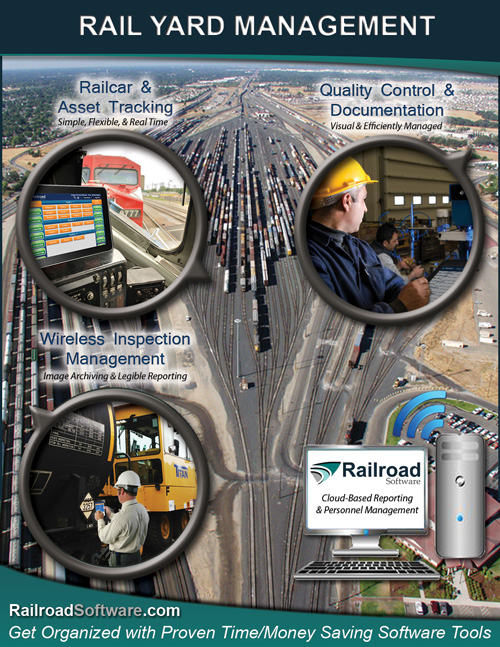 Railcar Inspection Software is integrated with a portable tablet to allow the user to develop checklist inspection forms which maintain a searchable database of all inspections.
This tool was created to eliminate the paperwork associated with inspecting railcars. This cloud-based solution (wireless) allows office staff to assign yard employees with railcar inspections to complete using an off-the-shelf tablet. Inspections can include photo documentation and can be automatically sent to the web-based platform for quick viewing, verification, printing, and final reporting. Additionally, the inspection crew can quickly view the position of a railcar in the yard so they are able quickly conduct the inspections.
Administrators have the ability to quickly modify or create new inspection forms at any time and many find this module ideal for checking safety compliance and record keeping for quality control programs.
Using Railroad Software you can always login in to your account anywhere in the world to check on the status of the railyard and the GPS tracked tablet lets you know exactly where your employee's are as they use the application.
Please contact us to setup a free trial or demo.
---
Movement Planner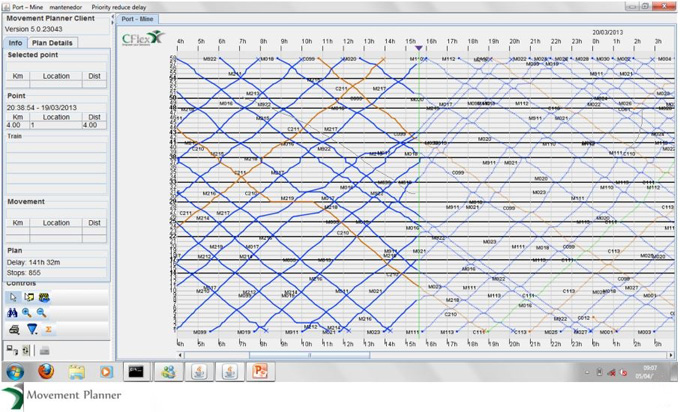 This real time planning tool supports all operational decisions in a railway control center. In just seconds, the system can calculate the most efficient routing for all train traffic on your network. With an analysis of multiple scenarios and situations in real time, Movement Planner enables quick, accurate actions which support crew allocation decisions, locomotive & wagon distribution and maintenance resources that are essential for optimizing your operation.
Once integrated into the existing operations system, the Movement Planner has proven invaluable to some of the biggest companies in the railroad transportation sector in several corners of the world. Providing proven benefits such as:
Increased network speed, through better train crossover planning;
Increased efficiency in energy and fuel consumption;
Higher productivity at terminals with greater efficiency of loading and unloading operations;
Greater network punctuality with better forecasting of train arrival times;
Greater ability to react to new production scenarios, maintaining alignment with business goals.
Movement Planner is operational optimization software which supports strategic decisions such as capacity studies and network modeling analysis.
Contact us for more information or to schedule a consultation.